Hello! Thanks to those of you who participated in last week's Music Master Class - I tried something new (working directly from the piano with less reliance on written music) and the response was fantastic! I expect to be doing more content like that in the future.
MuseScore Café
This week in the MuseScore Café with Marc Sabatella, I focus on text and how to format it. Fonts, sizes, headers, footers, and more - although MuseScore is not a word processor, there's a lot you can do to get your text looking the way you want!
Tip of the Week
One great text-related feature that many people never discover on their own: the Special Characters dialog. This window pops up while editing text if you click the icon at the far left of the text toolbar at the bottom of the screen or use the keybaord shortcut F2. The Special Characters dialog allows you to add a wide variety of accented letters, miscellaneous shapes, and musical symbols to your text. There are thousands to choose from!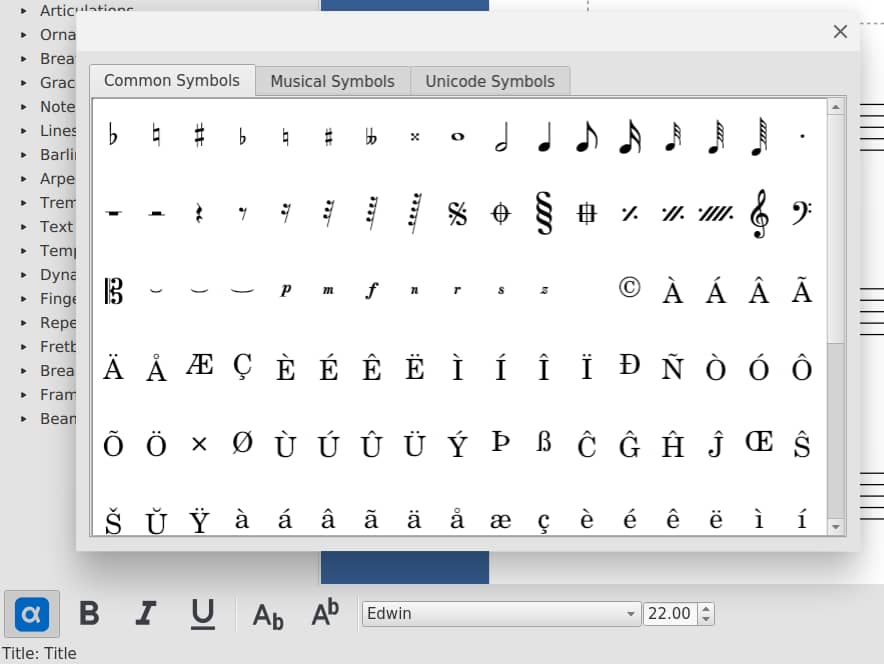 Music Master Class
Last week we started a little challenge involving writing new melodies to an existing chord progression. This week we'll look at some of the submissions and talk more about the process.
In Theory
I have finally finished the handouts and started recording video for my counterpoint course, so I'm very excited about that. The first lesson is up, and its purpose is to establish some basic definitions we will explore and build on over the course of the dozens of remaining lessons. I've made this introductory lesson a free preview so you can see what the format is like and hopefully whet your appetite for the main course to come!
Here's the link to the preview - Basic Principles: Texture.
I'm not ready to open the course for pre-enrollment quite yet, but if you become an All-Access Member, you get immediate access to all materials as I uplaod them - as well as access to all my other courses and to the members-only areas of the Community, including my Office Hours where you can meet with me face to face!